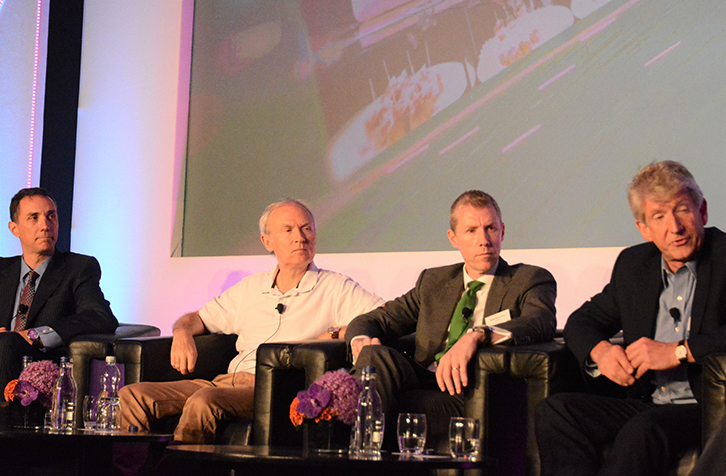 From left to right, Cody Bradshaw, of Starwood Capital Group; Luke Johnson, of Risk Capital Partners; Philip Richardson, of Barclays; and Robin Rowland, of Trispan and Yo! Sushi, discuss investment opportunities in the U.K. during the UKHospitality Summer Conference. (Photo: Terence Baker)
LONDON—Appetite and opportunity for investment in Europe continues unabated, although sources said London has its usual share of the spoils while mainland Europe benefits because of the presence of strong gateway cities and preferable exchange rates.
Another sea change is that private equity is moving out, according to panelists at a session titled "Investment opportunities" at the 9 July UKHospitality Summer Conference. Taking its place is capital seeking yield, and sources added traditional capital seeks stories to build upon.
Philip Richardson, industry director of hospitality and leisure at Barclays, said banks are still cautiously lending.
"Of the more than £6 billion ($7.9 billion) we have invested, more than 30% is in the hospitality sector, and 2018 has been dominated by two things," Richardson said. "Supporting the growth agenda, which has been a little more measured than is the case historically, and helping clients navigate some of the changes the market has thrown up."
Finding locations and staff remain pivotal concerns in regards to lending, according to Robin Rowland, partner at Trispan and CEO of restaurant chain Yo! Sushi.
"Great people, great locations and great marketing lead to profitability," Rowland said. "There is a wall of cash from non-bank lenders, and interest rates are at a historic low. To be quite frank, we need to exercise some caution. Throwing money at wages is not so sustainable."
UK vs Europe
Cody Bradshaw, managing director and head of European hotels at Starwood Capital Group, said as long as travelers are still planning trips all throughout Europe, the transactions market will still hum a healthy tune.
"There is no better macroeconomic indicator than European travelers coming into the U.K. The challenge is to get those guests into your hotels," Bradshaw said.
But investors also are being somewhat cautious, he said.
"Private equity is selling, but buyers are no longer coming in with bold investment strategies," he said. "Yield (in the U.K.) is more attractive than it is in Europe. The U.K. is still considered a safe haven, especially for investors who originate far away from Europe. The new investor is looking for double-digit cash-on-cash yields. A different profile is coming into the market now."
Bradshaw said consolidation opportunities are still available and full of opportunity.
"(Starwood Capital) has invested £250 million ($330.7 million) in (capital expenditures) in its core assets. That has been bittersweet. We're keeping De Vere (Venues), and there is a very good meetings environment, which 2019 continues to point towards being positive," Bradshaw said, referring to Starwood Capital's recent sale of its Principal Hotel Company.
Rowland said foreign exchange rates have had a significant impact on hotel investment. Bradshaw agreed and added mainland Europe is the new hunting ground.
"Apollo (Global Management), Lone Star, they've all packed up looking for pools of distress in Italy," Bradshaw said. "We're still here in the U.K., but the macro play has gone. There are no portfolios left at the bottom. Regional cities (like) Birmingham, Manchester, Cambridge, Oxford, Edinburgh (are what) we're interested in, but we need planned growth, not just a buy."
Bradshaw said Starwood Capital's current, 10th fund has made investment in hotel brands such as Yotel.
Grounding
Real estate issues in the U.K. have come to the fore, panelists said.
"Most banks are reducing exposure due to distress, and the collapse of high street (restaurants) where businesses are all leaseholds is pretty scary," Rowland said. "This is a £100 billion ($132 billion)-plus value market, but the margins obtainable 15 to 20 years ago have gone. That's probably due to competition, and the truth is that we probably did not realize how good we had it in the 1990s. Eliminating capacity will be a challenge. The ones in trouble had too much debt and too many sites open already."
Luke Johnson, partner at Risk Capital Partners, suggested some operators still "have sufficient liquidity," and concerns posed by Brexit are something investors will have to weather.
"Brexit is a factor, but there always is something or other. … Business is about making a profit, and pessimists rarely succeed," Johnson said. "I have seen far worse trading conditions in the past."
The drop in private equity is more due to cycles than macroeconomics, according to Johnson.
"Private equity follows the fashion, and it has washed its hands of the (food-and-beverage) sector, even of hotels," he said.
Rowland said investors looking at both in hotels and F&B in the U.K. are touting "growth capital, not turnaround capital."
"The presence of 25-year leases is disingenuous and only goes one way, and (business tax) rates are archaic, equivalent to the window tax in Dickensian times," Rowland said, referring to a tax, which lasted from 1696 to 1851, that taxed establishments based on the numbers of windows.