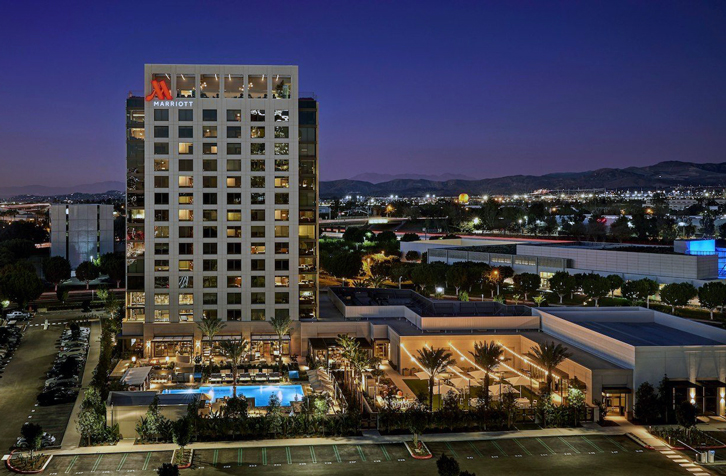 Guests of the Marriott Irvine Spectrum in Irvine, California, visit the shops and restaurants in the mixed-use development, and because they enjoy the experience so much, they're more inclined to stay at the same hotel during their next visit. (Photo: Marriott International)
By Bryan Wroten
REPORT FROM THE U.S.—Mixed-use projects are popular among hotel developers looking to directly connect their hotels with demand generators. Most types of real estate in these developments are good partners for hotels, but developers do need to be mindful about selecting the right kinds for the project and finding the right balance.
The types of real estate involved in mixed-use developments run the gamut, said David Black, managing director of hotel project and development services, at Jones Lang LaSalle's Hotels and Hospitality Group.
"There's a real trend in destinations that blend leisure and business," he said. "Many investors are looking for complementary uses that help both achieve greater financial results and penetration in the market."
What works
An office building in a traditional office park might not attract a company to move there if it doesn't have live/work/play uses surrounding it, Black said, and cities have been trying to leverage mixed-use developments to attract more businesses.
R.D. Olson Development President and CEO Bob Olson said he likes to see multiple demand generators within a project as well as the surrounding market. It can be leisure or business demand, but the key factor is "what we call livability." If a guest is going to stay at a hotel in a mixed-use development for a couple of days, they need to integrate with the surroundings, he said. There should be multiple things for guests to do there, such as shopping, nearby theaters or museums or other leisure activities.
"Even if they're a business traveler, you want them to feel like they're on vacation even if they're on a business trip," he said.
There are generally two types of mixed-use developments, said Nick Kellock, COO of Concord Hospitality. One is a building that has multiple uses in it, he said, and the other is what's known as a "lifestyle development." In either case, he said his company looks for demand generators and things that create activation for hotel guests.
"The three main things that go well with a hotel are compatible quality residential development, commercial office space and a good mix of retail—shops, restaurants and bars—things that activate the immediate area around a hotel," he said.
A mixed-use development is sometimes a function of what is already in the area, Kellock said. If the surrounding area is more residential, the developer should be more focused on getting commercial office space, he said. Likewise, if the development is in an area with more commercial office space, the developer would look to build more residential units.
"It creates a sense you are in a community," he said. "The office builds demand in a hotel's doorstep."
Hotels with a parking lot surrounding it could mean guests would decide to drive somewhere else for a meal, he said. Having a mixed-use development that creates opportunities to walk to the other parts of the development and has some nice landscaping can make them feel more a part of the community and want to visit places there.
"The key thing I think in the whole trend now is how you can minimize the amount time people have to resort to using their car," he said. "The evolution has been more toward a complete commingling and maximizing the pedestrian use among the different components of the development."
The more the development is seen as a destination in its own right, the better, he said.
Detrimental real estate
While there are many types of real estate that can help a hotel's performance in a mixed-use development, there are some that could be harmful.
Noise is always an issue, Olson said, and it's not just noise at night. Some guests sleep odd hours because of their travel schedules, and odors from a lineup of restaurants could be a problem as well, he added.
"You have to be careful of the environmental considerations," he said. "I'm talking about natural things that some uses adjacent (to the hotel) emit, like smoke, traffic, trash or trash odors. Just like in a residential property, that has to be taken into consideration."
There aren't too many types of real estate that aren't compatible, Kellock said. Instead, it's about finding the right balance.
"You don't want it to be all office or all residential," he said. "Then it doesn't work out as a mixed-use, so-called lifestyle development."
Kellock agreed being mindful of noise is important, as having a crazy popular nightclub in the vicinity will cause problems after 11 p.m.
More F&B
One of the biggest changes seen in the hotel industry is the growing role of food and beverage, Olson said. Mixed-use developments with multiple F&B options let guests try different places during their stay and they don't feel forced to either stick with just one or leave the property to find a restaurant off-site.
R.D. Olson Development opened the Marriott Irvine Spectrum, which is part of a mixed-use development that has office space, apartments, retail and entertainment. The hotel brings in hundreds of guests through the development every day, he said, and about 50% of those guests go to the retail center.
"Our guests love it," Olson said. "Then they come back. They talk about the great restaurants, the big Ferris wheel. It's accretive to everyone."
The company's Pasea Hotel & Spa in Huntington Beach, California, has about 16,000 square feet of restaurant space nearby along with retail, he said.
"It's fantastic," Olson said. "People walk out the door to that center. There are different foods, sources of experiences, ocean views, great wines. It's such a great experience. We're bringing 300 people walking through that center a day looking for that experience, and it's worked well."
Evolving developments
Mixed-use developments are constantly evolving as people try to build a better mousetrap, Black said.
Traditionally, hotels have been paired with residential units, such as condos or apartments, or with office and retail in mixed-use projects, he said. Now there are places where even sports facilities are coming into play, such as the development of Sun Trust Stadium and the Omni Hotel at The Battery Atlanta, the result of a partnership between Omni Hotels & Resorts and the Atlanta Braves, which JLL managed on behalf of the Braves.
In urban locations, there have been a number of dual-branded hotel projects, Black said. It might surprise people to see select-service hotels as part of these projects, he said, but they offer a great room product that is cost-effective.
Hotels have integrated into office environments, healthcare environments and into retail, Black said.
"There's a lot of opportunity to cross-utilize what is great about hospitality into those other markets and create something special in a mixed-use environment," he said.

Travelers are now looking for more than just a clean hotel room, Black said. Instead, they want more experiential travel.
"Mixed-use developments that create a sense of place that make you want to go there because they have a great restaurant scene or concert scene. Those are having an impact, particularly if they really relate to the location," he said.