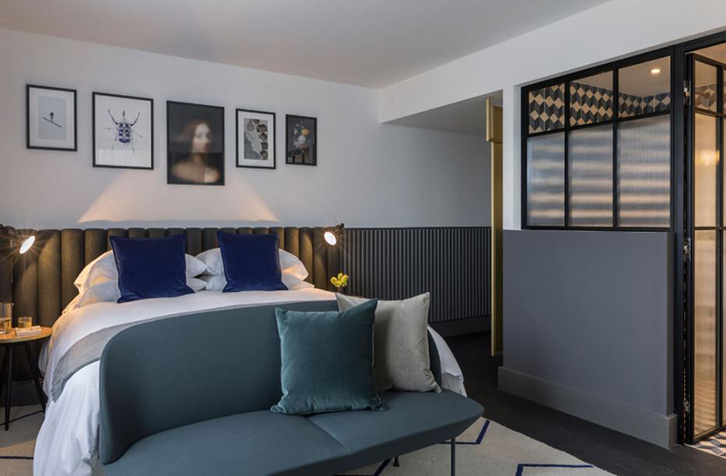 Despite a lot of focus on InterContinental Hotels Group's new brands Avid, Voco and Regent, IHG executives said the next 12 months are a critical time for its Kimpton brand, which it purchased in December 2014. Pictured is the Kimpton De Witt Amsterdam. (Photo: InterContinental Hotels Group)
DENHAM, England—InterContinental Hotels Group executives are confident that the United Kingdom-based hotel company is on course for a strong 2018 as its efficiencies help savings, signings and room growth, especially in Greater China.
Speaking on a conference call to present IHG's first-half 2018 results, CFO Paul Edgecliffe-Johnson said he is "really pleased with the signings we are seeing, and for the growth that these new rooms will represent."
In the first six months of the year, IHG has opened 22,000 rooms, which signifies an 11% increase over the same period in 2017, Edgecliffe-Johnson said.
Ten thousand rooms were removed from the system in the period, and Edgecliffe-Johnson said that full-year removals are expected to be at the higher end of the 2% to 3% range.
IHG signed approximately 46,000 rooms to its overall count during the first six months of 2018. Its current pipeline equals approximately 262,000 rooms.
Greater China remains the focus of this rooms push, executives said.
"A strong penetration into developing markets continues to dilute short-term (revenue per available room) but provides a long runway for future revenue growth," Edgecliffe-Johnson added.
In Greater China, IHG now has approximately 80,000 rooms, with approximately 17,000 signed in the first half of 2018, which CEO Keith Barr said was a record for the firm and included five InterContinental assets.
Barr added that the Greater China region now has more than 100 Holiday Inn Express properties open or in the pipeline under its Franchise Plus model that was launched in China two years ago.
Integrating the new brands
Barr described the first half of the 2018 as "an incredibly busy year," and said efficiencies and related savings were critical in the hotel firm cementing its share of global rooms.
Across IHG's brand portfolio, Barr said the company is driving efficiency at "how do we move quicker from signing to groundbreaking?"
Barr said that the Avid brand, launched last September, already is seeing great traction. Its first property is "due to open in a matter of weeks" in Oklahoma City.
"No one signs up a new brand at this rate," Barr said of Avid. "We are well on track for Avid to become IHG's next brand of scale."
Room growth is being spurred by both organic growth and bolt-on acquisitions, the executives said.
In the Americas, IHG signed approximately 20,000 rooms for a total of approximately 115,000, with 82 Avid hotels being signed in the first six months of 2018 for a pipeline total of 130, Barr said.
With opened and signed hotels, IHG's global room count is now above 800,000.
Barr said that IHG's new organizational structure is being increasingly embedded.
"Our brands are at the heart of everything we do, and over the last 12 months we have added three more: Avid, Voco and Regent."
Edgecliffe-Johnson said the next 12 months will be a critical year for IHG's Kimpton brand—which it bought in December 2014—with Kimpton hotels due to open in London, Edinburgh, Glasgow, Manchester, Frankfurt, Shanghai, Toronto and Mexico City.
The Voco conversion brand is on target to have more than 200 hotels over the next two years, Barr said, while he added he is confident IHG can "unlock the enormous potential" of Regent Hotels & Resorts, which the company acquired in March.
Barr said multiple new sites are under discussion for Regent in key gateway cities and resorts, with more than 40 hotels planned over the long term.
IHG's new regional operating structure that has been in place since Barr assumed the top job in July 2017 has allowed IHG "to bring new products to markets more quickly … (with) signings up 46% year on year in the half," Barr said.
Barr said more efficiencies will derive from IHG's full rollout of its new GRS reservations system, which "is due to be rolled out across all the estate by the end of 2018 or very early in 2019. … We're very pleased with where we're at and are getting great feedback from our owners."
Edgecliffe-Johnson said owners also are pleased with increases in share dividends and fee margins. He said fee margins are expected to remain in the medium term on line with IHG's historical average of 135 basis points, although "there is some noise in different regions, including additional health care costs in the U.S."
Barr added he had seen some "positive impact (in U.S.) oil (regions), but at the moment it is hard to quantify."
Inside the numbers
A look at the earnings numbers for the first two quarters of 2018, like-for-like total revenue rose 8% to $2.1 billion, while total operating profit remained largely stagnant at $394 million, down $1 million from H1 2017.
In a news release accompanying the results, Barr said, "RevPAR grew at 3.7%, which together with 4.1% net-system-size growth, drove underlying operating profit up 8% and underlying (earnings per share) up 25%. This underpins our decision to raise the interim dividend by 10%."
Greater China shone as the star in terms of RevPAR increases, too, Edgecliffe-Johnson said, with a rise of 10.1%. RevPAR for hotels in mainland China increased 9.1%, rose 13.1% in Hong Kong and increased 19.5% in Macau.
Europe, the Middle East, Africa and Asia (EMEAA) and the Americas both saw more modest RevPAR growth, at 3% and 3.2%, respectively. Two specific markets, Japan and Australia, both saw RevPAR growth of 3.5%, with Australia benefiting from hosting the Commonwealth Games in April.
Barr said IHG is still on track to make total annual savings of $125 million by 2020.
He added that exceptional cash costs remain unchanged at $200 million, with $80 million already incurred, and underlying cash flow is up $57 million year over year.