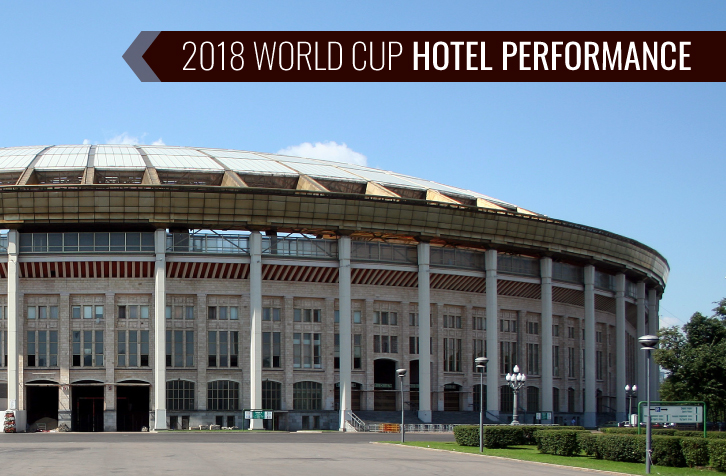 Luzhniki Stadium was one of two stadiums in Moscow used for the 2018 FIFA World Cup. It hosted the final and opening matches of the tournament, as well as another five games. (Illustration: Rachel Daub)
REPORT FROM RUSSIA—The 2018 FIFA World Cup, the biggest sporting tournament of all, ran between 14 June and 15 July and ended with France being crowned champions.
Hoteliers also celebrated, although some fan bases, notably from fourth-place England, did not attend in their usual numbers due, some said, to adverse publicity regarding the welcome they might have received in Russia.
Still, the Russian edition of the tournament has been considered a huge success.
Moscow-based Andrey Smirnov, commercial VP at Interstate Europe Hotels & Resorts, said guests at Interstate's hotels for the World Cup were split equally split between domestic and international, with the greatest demand being for matches in Moscow, St. Petersburg and Sochi.
"We anticipated that the main demand would be for Moscow, as (it was the) main hub for FIFA officials, broadcasters, sponsors and government delegations. Our task was to get the business that would keep occupancy in our hotels at the maximum levels even during the period from 4-10 July when there were no games in Moscow. For Sochi and Volgograd, the main demand (for our hotels) came only for dates of games," he said.
Smirnov said he had worried, based on data from previous Word Cups, that there would be poor occupancy in the days before the games started and between games in any city, but that did not transpire.

"Moscow hotels finished June with 90% average occupancy, while central hotels had occupancy of 95%, with good rate increase versus last year," he said.
Nikita Savoyarov, editor-inchief and publisher of Russian hotel magazine ProHotel, said hotel performance in St. Petersburg was not so good because it hosted half the number of games as Moscow.
"The success was very big in Moscow and in some other cities due to the new offers they could provide. The majority of the cities were not known players before the World Cup, places such as Nizhny Novgorod, Saransk and Volgograd," Savoyarov said.
Moscow hosted 12 games, while St. Petersburg and Sochi hosted six each. Other host cities were Ekaterinburg, Kaliningrad, Kazan, Rostov-on-Don and Samara.
"I did see lots of offers from St, Petersburg, but in the end some unsatisfied hoteliers as the prices they set were rather high," said Savoyarov, who added the official tourism figures he heard from the city was that 600,000 foreign visitors had arrived during the month of matches.
Aron Libinson, VP of operations and Development for Russia at InterContinental Hotels Group, said that pricing power was somewhat limited for the host cities, though that came with some advantages.
"There were hotels rate caps put in place by Russian government for the host cities during World Cup depending on hotel's star classification, which from one side limited the ability to quote high rates, but from the other side set certain expectations for the market players. So that basically gave the whole market the corridor in which trading was being done," he said by email.
"And as always, different hotels had different strategies, as what would be the best approach for (a) 200-room hotel would never fit for 500 keys, and vice versa. As the interesting example which could be shared, I can name Holiday Inn Express Sheremetyevo. … Sheremetyevo has always been perceived as Moscow, but officially the location of the hotels in this area is Khimki, which falls out of the areas with rate caps regulated by government. It gave opportunity for the whole area during a quiet significant period of time to drive rates higher than comparable hotels in the city centre. And Holiday Inn Express, thanks to constant rate optimization strategy based on demand analysis outperformed such major competitors as Radisson, Novotel and Sheraton for significant period of time."
Overall, Libinson said, the "majority of IHG hotels (in World Cup host markets) ended up ahead of the expectations, in some instances up to two times better."
Sochi blockbuster
Sochi, according to sources, will reap benefits from the World Cup due to now being well-known as a destination of high quality and value, whereas just a few years ago it was utterly unknown.
Sochi, which came to prominence when it hosted the 2012 Winter Olympics, hosted one of the World Cup's most anticipated group-stage matches, for which the teams and location are set in advance, unlike other matches where those variables are not decided until later.
For that match, Portugal versus Spain, on 15 June, Sochi hotels saw a 31.1% increase in occupancy to 68.1% compared with the same date in 2017, a 70.6% jump in ADR to 11,640.56 rubles ($183.56) and RevPAR gains of 106.5% to 7,927.04 rubles ($125), according to data from STR, parent company of Hotel News Now.
According to STR analysts, St. Petersburg hotels reported strong occupancy, but its hoteliers were not able to push rates, with more visitors demanding economy or midscale product. Moscow, however, did well across all three metrics.
The opening match of the tournament was in Moscow, with the Russians playing Saudi Arabia.
On that day, 14 June, Moscow hotels saw an 18.6% increase in occupancy compared with the same date in 2017 to 90.9%, a 328.3% increase in average daily rate to 24,782.65 Russian rubles ($390.80) and a 362.4% increase in revenue per available room to 22,516.68 rubles ($355.07), STR data shows.
Compared with the day before, occupancy increased 5%, ADR was up 12% and RevPAR up 17%, according to STR.
France wins
For the final—France versus Croatia, which France won 4-2—on 15 July, also held in Moscow, STR data shows a 36.6% year-over-year increase in hotel occupancy to 94.3%, the highest occupancy in Moscow during the entire month the World Cup was staged across Russia. ADR was also up 505.8% to 27,709.96 rubles ($436.96), and RevPAR grew 681.1% to 26,122.73 rubles ($411.93), the data shows.
Fortunes were different in St. Petersburg, Russia's second city.
On 22 June, when the city hosted perennial favorites Brazil against Costa Rica, St. Petersburg hotels reported a 1% decline in occupancy, compared with the same date in 2017, to a still-healthy 91.6%, according to STR data. Meanwhile, increases in both ADR and RevPAR were well below those enjoyed by Moscow, with ADR rising 91.9% to 18,897.61 rubles ($298) and RevPAR rising 79% to 17,312.26 rubles ($273).
Compared to the previous day, hotel performance on 22 June was flat in occupancy and up slightly (+1% ) in ADR and RevPAR.
For the most eagerly awaited semi-final match, Frances versus Belgium on 10 July in St. Petersburg, hotels posted a 1.8% decrease in occupancy to 91.1%, but a 281.5% increase in ADR to 24,952.14 rubles ($393.47) and a 260.2% increase in RevPAR to 22,726.65 rubles ($358.38) compared with the same date in 2017, STR data shows.
Compared with the day before, ADR dropped 1%, though occupancy grew by 8%, driving RevPAR up 7%.
Savoyarov said the international business-to-consumer media might have scared off some visitors.
"Some painted the wrong picture of the situation in Russia, both in terms of the welcome and the accommodations, although with the (business-to-business) media we saw another picture that said everything was very good and well-prepared," Savoyarov said.
Interstate's Smirnov is confident the World Cup will produce the legacy anticipated by organizers.
"It was a great event, well organized. It was definitely a great move forward for the development of the tourism industry in Russia. International supporters were amazed by the hospitality, beauty and historical and cultural heritage of Russia, and now people having official FAN ID (documentation) can come to Russia without a visa until the end of 2018," he said.