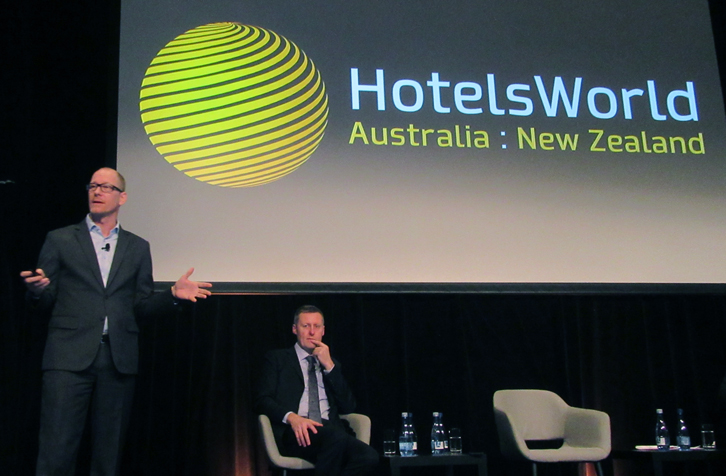 STR's Jesper Palmqvist to HotelsWorld attendees on day 2 of the conference: "People want to invest in Australia." Also on the conference stage is Greg Clerk, head of investment strategy for Hostplus. (Photo: Jeff Higley)
By Jeff Higley
SYDNEY—Hotels in Australia and New Zealand, much like those in the rest of the world, are performing well. That, of course, means there's plenty of interest from developers and investors, according to speakers on the second day of the HotelsWorld event at the Sofitel Sydney Wentworth Hotel.
The two countries mirror a trend throughout the Asia/Pacific region, according to Jesper Palmqvist, area director for STR, the parent company of Hotel News Now.
"Another 12 months of really positive growth around the region, and it's very unlikely that in the next 12 months the majority (of the markets) are going to go in the opposite direction," Palmqvist said.
That's good news for hotel developers, he added.
"It remains very, very interesting, and people want to invest in Australia," Palmqvist said.
Others agreed.
"The amount of supply has become more certain—it has advanced through the process," said Dean Dransfield, managing director of Dransfield Hotels and Resorts. "We have more rooms under construction; we have more proposal activity."
Costs are coming in higher than people thought, valuations are coming in lower, and there's more money available for development, according to Dransfield.
"The investment conditions are extremely optimistic," he said.
Lindsay Leeser, VP of development-Pacific for AccorHotels, said the company—which has a portfolio of 330 hotels across the country following its acquisition of Mantra Hotels & Resorts—has expansion plans for Australia.
"We're seeing some good opportunities for further development," Leeser said. "What's really pleasing when you look across the country … is there has been a lot of investment now by the government, but also the private sector, into infrastructure, into tourism events."
Best Western Hotels & Resorts, another global player with approximately 100 hotels in Australia, is ready to grow there as well, said President and CEO David Kong during a panel discussion titled "New direction in an era of unbridled opportunity & risk."
"We have potential to double our presence here especially through the utilization of our new brands," Kong said.
Leeser said there's been a shift in investor profile in last two or three years as Australian capital has exited, and capital from Southeast Asia and China has entered the market.
Development might also come from newcomers to the industry as other real-estate sectors cool off, panelists said.
"We all understand the residential market is slowing down and therefore a lot of developers are looking for a way to hold on to their stock and not drop their price," said Simon Wan, president and director of StayWell Holdings. "There will be some new products coming into the marketplace."
Photos/Photo of the day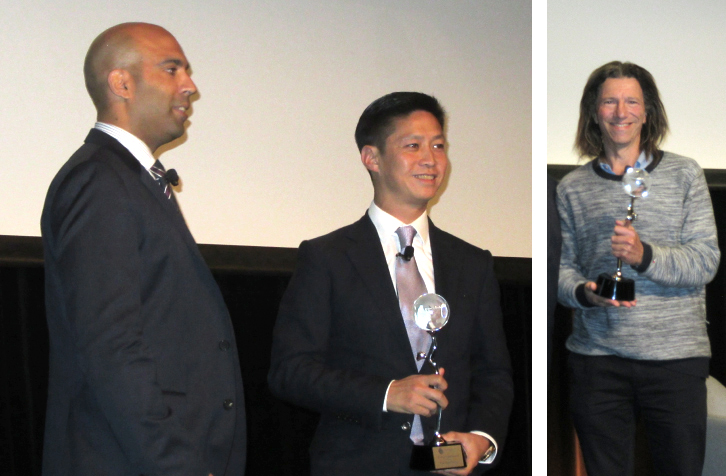 Kenneth Gaw (left), president and managing principal for Hong Kong-based Gaw Capital Partners, received the Global First Award at HotelsWorld. Jerry Schwartz (right), CEO of Bondi Junction, Australia-based Schwartz Family Company, received the Australia First Award. (Photos: Jeff Higley)
Quotes of the day
"As owners of hotels, there is an investment in IT that is ongoing and increasing, and the CapEx element to that can't be ignored. The other thing is that at the end of the day, technology is a great enabler, but it comes down to service. You can have the most amazing technology in the world, but if you're not delivering the right service to your guests, you won't get them back and you won't get the loyalty to your brands."
—Lindsay Leeser, VP of development-Pacific for AccorHotels, on important things hoteliers need to remember.
"When you worry about survival, you tend to think totally differently. You start with afresh sheet of paper, and you get things like a disruptor. That's what I like to do."
—David Kong, president and CEO, Best Western Hotels & Resorts, on the company's strategy for looking at worst-case scenarios.
"Great design gets the customer into your door the first time, but it's service that will bring them back over and over."
—Kenneth Gaw, president and managing principal of Gaw Capital Partners, on what makes good hotels.
Slide of the day